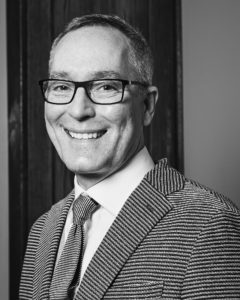 Dr. Paul Amble, DDS, graduated from St. Olaf in Northfield, MN in 1979 with a Bachelor of Science in Biology. He graduated with his Doctor of Dental Surgery (DDS) in 1984 from the University of Minnesota's School of Dentistry. Immediately after graduation, Dr. Amble opened a small practice in St. Paul's Lower Town area. In 1989, he moved his practice to 960 Grand Avenue, where he continues to operate today.  In 2000, he pursued advanced education in aesthetic dentistry to grow his service offerings and has since successfully completed many full smile restorations.
Dr. Amble is an active member of the Truth North Seattle Study Club which allows him to connect and share ideas with the best dentists from all around the globe.  He enjoys staying in touch with the local community and has been thrilled at the growth and positive development of the Grand Avenue area over the years. Dr. Amble and his staff absolutely love the town; the wonderful eateries, local shops, welcoming residents, and overall atmosphere make it a great location and own and operate a business.  Dr. Amble was previously the President of the American Cancer Society, East Metro and is involved with the local neighborhoods through both his church and the Hallie Q Brown food shelf.
Dr. Paul Amble lives in Arden Hills and is an avid fan of architecture, bicycling, reading, and his dogs. After 30 rewarding years of operation, he strives for his practice to be preeminent in dental care, treatment, and patient comfort.
We'd love to hear from you! Feel free to connect with Dr. Amble via the Twitter and Facebook links on our page as well as his LinkedIn account.